ADVICE WHEN SEARCHING ADEQUATE CLOTHING FOR EACH ACTIVITY AND WEATHER
For us, it is important that our clients have a comprehensive knowledge of the products they will acquire. Manufacturing uniformity garments requires B2B communication for a correct execution and production.
The advice process represents one of the most important steps in our business relationships. A trusting atmosphere between company and client is established, in which we commit to continue improving the quality in the textile industry and the business relationships daily.
The business relationship created allows us to understand the type of adequate uniformity and thus, supply high-performance garments.
PERSONALISED CLOTHING DESIGN FOR SECURITY FORCES
Partenon counts on human talent and the best technologies to design personalised and exclusive garments. Our goal is for each user to obtain a garment supply which adjusts to their activity and comfort.
Technical quality, resistance and comfort of our garments are the features that make us leaders in technical uniformity for security forces. These garments ha
TAILOR-MADE UNIFORMS TO OPTIMISE USER'S RESOURCES AND COMFORT
What differentiates our company is our personalised sizing service, which contributes to resource optimisation not only for our clients, but also for us. This is a very important process to avoid problems in supplies. Making the user try the garments on beforehand, size changes are minimised.
Our personalised sizing allows each user to have a resistant and well-fitting garment. This guarantees maximum comfort in their daily activity and a longer lifecycle of the product.
HIGHLY-QUALIFIED STAFF FOR THE DESIGN AND MANUFACTURING OF HIGH-QUALITY GARMENTS
The other most valuable aspect of our company is the way in which we use technology and innovation to guarantee the quality of all our industrial processes. Full traceability of individual garments throughout the production processes complements available information.
During the production processes, continuous quality control procedures are active. This allows us to efficiently detect quality incidents during production.
Prior to sending the garments to the clients, final inspection is undertaken by highly-qualified staff to allow efficient problem solving.
PERSONALISED SHIPMENT FOR EACH USER
For us, each garment has a unique purpose and relates to a single user. Therefore, once the manufacturing process is completed, the product is packaged and delivered for each officer specifically.
By this personalised shipment, the user develops a sense of responsibility and ownership for their garments. The officer receives the garments that directly links to their police corps and develops responsibility for their care and maintenance. In this way, each user recognises the importance of quality in their uniform.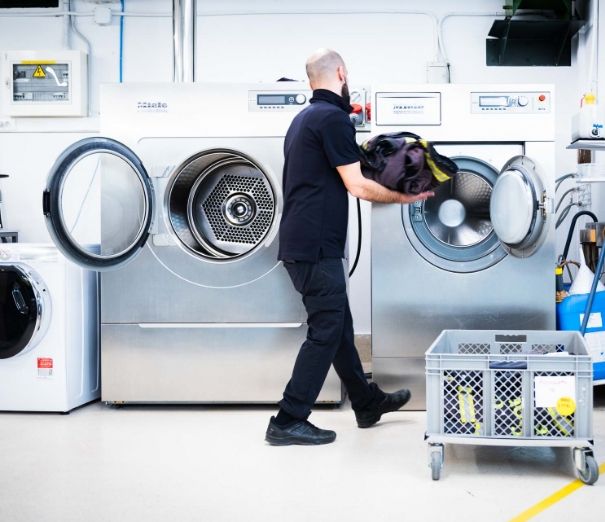 PERSONALISED ATTENTION BY THE SALES AND CUSTOMER SERVICE DEPARTMENT
Beyond the manufacturing and supply of the garments, Partenon offers a comprehensive post-sales service. Our mission does not conclude after merely delivering the uniforms.
We must accompany our clients throughout the lifecycle of the garments. We are aware of the concerns about the garment's wear and tear and lifespan. That is why we will be there to listen to their needs.
An example of our services is the firefighter's garment care programme, where we make the collection, maintenance, and redistribution. In this way, we make sure that the garment continues to meet the quality standards and offer the highest performance.
Our aim regarding the post-sales service is to strengthen our commitment to quality and trust.