A great option for police uniform
Estay Trousers combine a modern design with dynamic properties with the aim of meeting the needs of each police officer. They offer great resistance to abrasion and wear and tear, high breathability, and excellent ergonomics thanks to the elastic fabric, which is also included in the waist.
Moreover, they incorporate the innovative 3XDRY® technology, which makes the external face water repellent, while the internal face is hydrophilic. Their finishing provides maximum comfort in high-impact activities, in winter but also in summertime.
They can also include a removable windbreak liner to help users get protected against cold and keeping an adequate body temperature in adverse weather conditions.
Products in the Estay collection
Estay Trousers incorporate inherent 3XDRY® treatment. Therefore, the external face is water repellent, and the internal face is hydrophilic, absorbing body humidity efficiently.
Thanks to this, great breathability is achieved. It also helps to regulate body temperature, keeping the skin dry, and avoiding cold in winter and overheating in summer.

To complement the ergonomic design, Estay Trousers are made of elastic fabrics, which increase freedom of movement. Moreover, it offers great abrasion-resistance. The fabric has high colour fastness in order to keep the uniform sharp-looking even after numerous wash cycles.
Thanks to their elasticity, their finishings, and high-quality manufacture, new collection of Estay Trousers fits the body perfectly, offering maximum comfort to cope with all kinds of situations and activities.
The wider waist in the back makes the garment more comfortable in all types of movements, protecting the user against the duty-belt abrasion.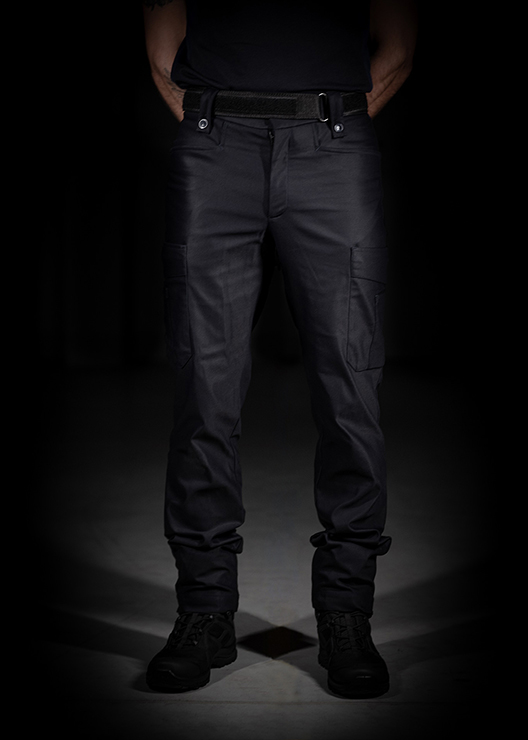 Removable windbreak internal liner
Estay Trousers may include a windbreak removable liner which isolates users thermally against low temperatures and wind-chill effect.
Elastic waist
Estay Trousers' elastic waist creates comfortable body adjustment.

Shirt grip
Shirt grip on the interior of the waist keeps the shirt tucked in.
Quick dry
3XDRY® treatment makes the garment dry quickly. Therefore, the garment is ready to be used again soon after washing it.
YOU CAN PERSONALISE THIS GARMENT
MATERIAL
Estay Trousers are now more elastic, making them ergonomic and allowing great freedom of movement. Moreover, thanks to 3XDRY® technology, the external face of the garment is water repellent, while the internal layer is hydrophilic.
They are designed to offer great comfort in all seasons. In fact, a removable windbreak internal liner may be added in order to protect the officer from low temperatures and wind-chill effect.

If you have any doubts or need further information about any of our garments, do not hesitate to contact us. We will contact you as soon as possible.